Outdoor Fun In Nature's Beauty. Unplug and Play Like Monkeys.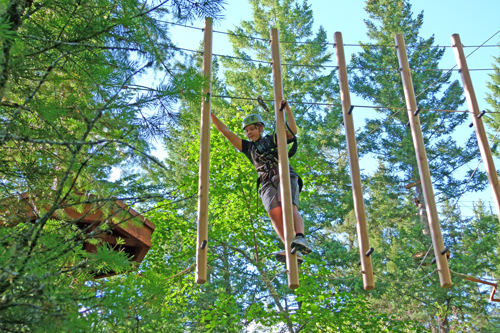 Unforgettable outdoor recreation for adults, teens, kids, and groups. The kids can't help but "Be Empowered" after this trek in the trees. Retreat from the hustle, bustle, pavement and play stations. This "feel-good" aerial play builds self-confidence and is an awesome way to spend quality time as a family. Each child and adult may be surprised at how many obstacles can be overcome… tightropes, bridges, balance beams, net walls and tunnels create a climbing experience that builds strength and encourages teamwork. The forested Oyama hills are a magical place to fuel the imagination and strengthen physical and mental ability. Experiencing nature can clear the mind and de-stress the body.
HEAD FOR THE HILLS  We are near the Okanagan Rail Trail. You'll see a series of platforms in the trees connected by cable, wood, rope and zip lines to form bridges… "aerial trails" throughout the forest. You don't have to be a circus acrobat or Tarzan. Choose from three different color-coded trails: beginner (easier and lower to the ground) to advanced (the most challenging). 
CLIMB WITH CONFIDENCE  Ground school safety orientation takes place before your climb. Our state-of-the-art Smart Belay system has a double connection point that will not allow both safety clips to be disconnected at the same time ensuring your child cannot simply forget to be clipped in. Our Aerial Park courses are designed for self-discovery. The inexperienced will learn quickly and our friendly guides assist throughout your visit.
Searching Availability...