Nurses Appreciation Event - Free Entry at Oyama Zipline Adventure Park.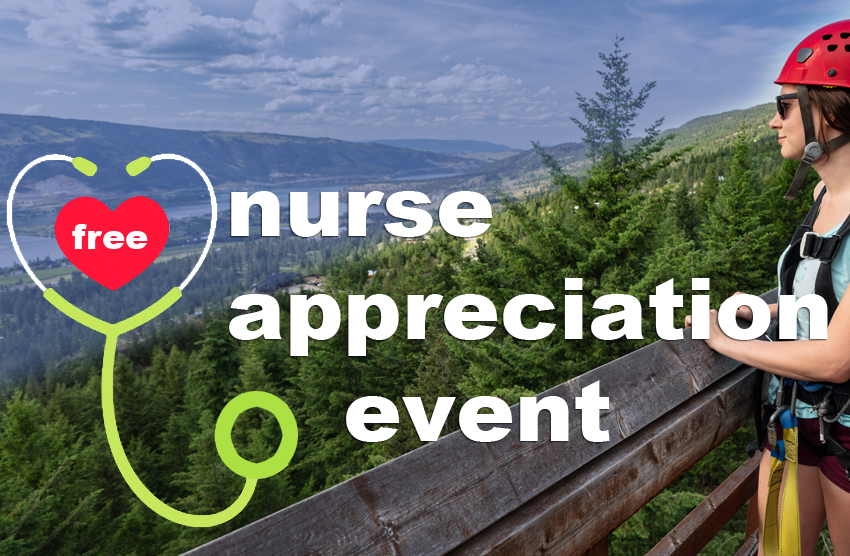 Nurses (and one companion) will be hosted by owners Peter and Jennifer Madsen to honour nurses contributions and sacrifice during this difficult time. "We are thankful to these healthcare workers", Peter says, "and hope a day at our adventure park helps alleviate some of the stress from the challenges nurses have faced since Covid hit".
 
Nurses work tirelessly on the frontline. The National Institutes of Health confirm that aerobic exercise and other forms of movement are linked to the reduction of anxiety. May 27 and 28, 2021 nurses and a friend / child can do an activity of their choosing: Forest Monkey Playland, the Ninja Warrior Obstacle Course, or a 2.5hr Guided 7 Zipline Tour absolutely free. Park Manager Jen Thompson suggests a "workout" in the aerial course to alleviate stress but there are more relaxing activities available such as soaring down the mountain on zip lines or playing with your child in the Kids Aerial Park.
 
Just some of the obstacles of nursing during Covid-19 have been long hours, staff shortages, irregular shifts, and the physical demand imposed by wearing protective equipment for long hours. Work-life balance has been difficult as well. Pandemic lockdowns and restrictions impact their domestic responsibilities and caregiving duties overloading them more than ever. Consider the mental strain of scheduling and coordinating home life, striving to keep their families safe. "A parent working as a nurse can bring their children to our park and have a relaxing day in the great outdoors" offers Jennifer Madsen.
 
Emotional and mental pressures have been documented. Most healthcare workers are showing a high rate of anxiety and also depression. Fighting against the fear of contagious disease and worrying about bringing the virus home are some of the lesser-known pressures nurses face everyday. "I'm sure it is very taxing and discouraging caring for patients and coping with understandably emotional family members", adds Peter "Here's an opportunity to come to the beachside town of Oyama, relax, and have some well-deserved fun."
 
To book call 250 548 4129 during operational hours as well as on Tuesday, May 25th  from 11-3pm please. Reservations are mandatory. Limited spots available. See oyamazipline.com for activity requirements (height and weight restrictions). The entire crew of Oyama Zipline Adventure Park send a huge thanks from the bottom of their big hearts.  We can't thank you enough!