Please book ahead as new procedures for the protection of guests and staff mean that there are less tour spots available.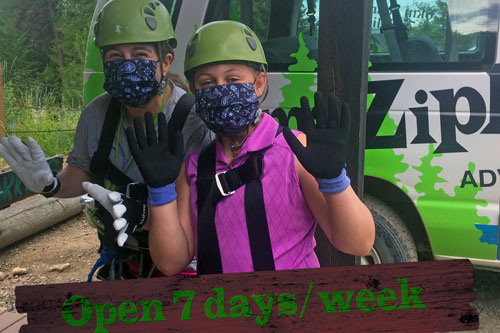 Masks and gloves are available for purchase on-site – you are encouraged to bring your own face covering and gloves. As a safety-focused business, we operate following a comprehensive Covid-19 Action Plan.

Have fun with family and friends in the Okanagan while staying outdoors and distancing as appropriate. All four adventure attractions at Oyama Zipline operate 7 days per week until September2020. We welcome guests 9am through about 4:30pm when the last zip line tour leaves. Allow at least 2 hours to explore any of our aerial parks:
- 7 Zipline Park with Guided Tours soaring down a mountainside
- Aerial Park with 3 levels of tree top adventures including rope bridges, more zip lines, tightropes, obstacles and a bungy-like-jump
- Play Park where ages 3 - 11 can zip line alone and play on aerial elements that are encased in nets
- FreeFall Ride. This is a QuickJump on the BLack level of the Aerial Park. Guests may book this attraction separately.

In the autumn we run a lesser amount of tours until mid-October. Oyama Zipline Adventure Park offers something for every age from 3 - 103.
Kids 36" tall or so can use playground equipment, a rope maze, and Forest Monkey Play Park aerial circuit and zip line. A adult is free to help the child along. This obstacle course is for elementary school age children up to 11 years old. Those 8 and up (with more athletic skill) will love the 3 levels of aerial obstacles. Each participant needs to reach 5'5" or over. Only when able to reach 5'11" handholds can youth explore alone. Otherwise they will need a buddy to assist.

If you are having a difficult time choosing an attraction – pick a day to have a four or five hour adventure in the forest… and get the combo pass!

Searching Availability...