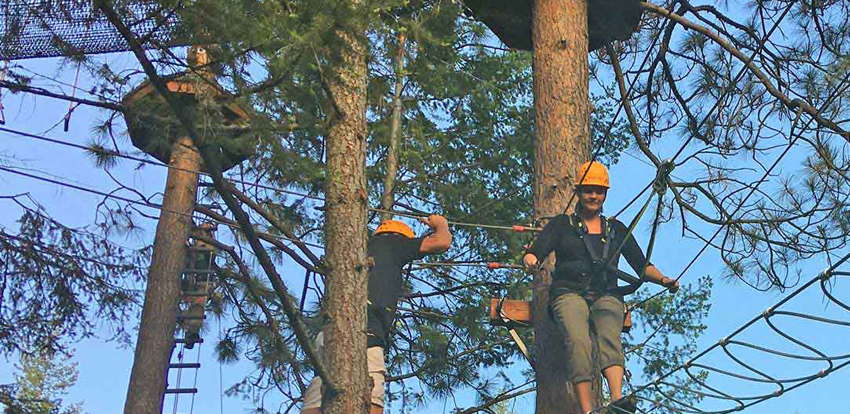 You may want to shop from the comfort (and safety) of your own home in.
Take the time to pick out something that will thrill the recipient. We think adventures and tastings hit the mark for gift-giving this coming year… Valentine's Day, birthdays, grad and anniversary. We're offering a $22 adventure in our Forest Ninja Warrior Course (book below).

For birthdays and anniversary presents there are many gift and specialty shops in Kelowna. Vernon and Kelowna are full of amazing artisans making small batches of local, sustainably-made products that are perfect for gift-giving. But if you can't make it to town to pick up your own, order online. Consider giving a gift of an experience. Everyone is itching to get outside and enjoy some adventures.

If you want to shop in person we suggest the following gift shops:

- St Nicholas Ave Gifts Arts & Collectibles is a full of treasures, year round Christmas items plus some home decor items that make great gifts for collectors.

- Sweet Bee's is a Gift basket store specializing in locally-inspired packages from the Okanagan Valley. Delivery can be arranged so these one-of-a-kind baskets make gift giving a breeze.

- The Front Porch Home Décor & Boutique in Lakewood Mall has an excellent selection of decor, trendy clothing, and hand crafted items.

- Olive Us Oil & Vinegar Tasting Room is a 'delicious' place to explore collections of fresholive oils from around the world, infused vinegars, and delicious gourmet treats. Visit these top stores in Lake Country for specialty gifts that are a thrill to receive.  

Whether you take the time to pick out an Oyama Zipline attraction to give, or buy someone a gift certificate in a specific amount, we know that anyone 3 years old and up will enjoy receiving a gift card from an adventure park.
Searching Availability...