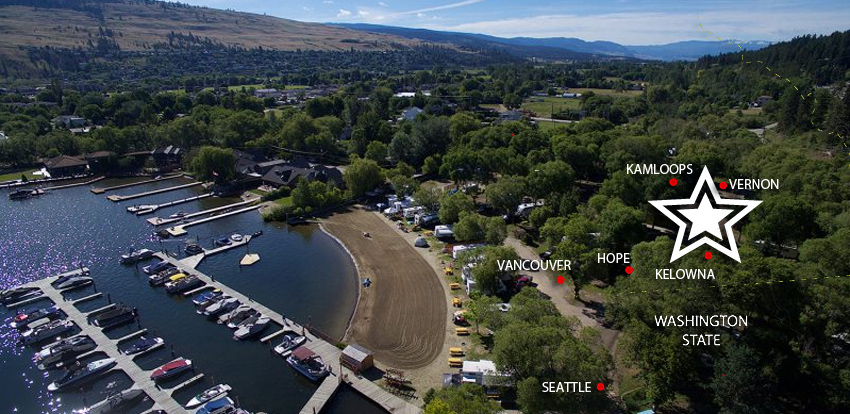 September and October 2019 - A great time to camp in the Okanagan...
The foliage is starting to turn vibrant colouring. Walking upon crisp leaves in the orchard is so peaceful. Whether is still good for days on the beach. Wook Lake RV Park is a conveniently-located resort that makes for an amazing gateway for international travellers. While the July and August in British Columbia is hot and dominated with families from the prairies; autumn is predominantly international travellers often from Asia, Europe and Scandinavia touring the Okanagan by rented RV or car. Many stop near Kelowna as a scenic and fun-filled stay between Vancouver and Banff. There are so many activities and festivals in the valley. Book your Vernon-Kelowna zip line adventure now.


Searching Availability...
Adventure abounds in the Okanagan. Looking for fun in the great outdoors? The area between Kelowna and Vernon in Oyama offers unique accommodation especially for boaters or those who want to be on the lake. A close drive takes you into agricultural bench land and top okanagan viewpoints up along Oyama Lake Road. Oyama Zipline offers a adventure experience for every age. Kid's have the Monkey Play Park and older kids and adults can choose their thrill with our 3 circuit aerial park or premium zipline tour. Or come relax in the trees and watch the action above! Drive a few miles more and you are in rustic small lake chains to fish and atv. Within 10km you can have a very diverse road trip in Oyama.
If you are looking for a camp site central to all the Okanagan Valley we recommend Wood Lake RV Park and Marina on sandy shores of Wood Lake. Water sports are at your doorstep; as is the local favourite waterfront watering hole and restaurant, Turtle Bay Pub. With direct lake access you can boat, kayak, canoe and paddle board easily. See the beautiful area which is surrounded by the Okanagan Rail Trail. More than 50km of recreation! Sparkling Wood Lake is connected by canal to Kalamalka Lake – some say the most beautiful lake in the world.