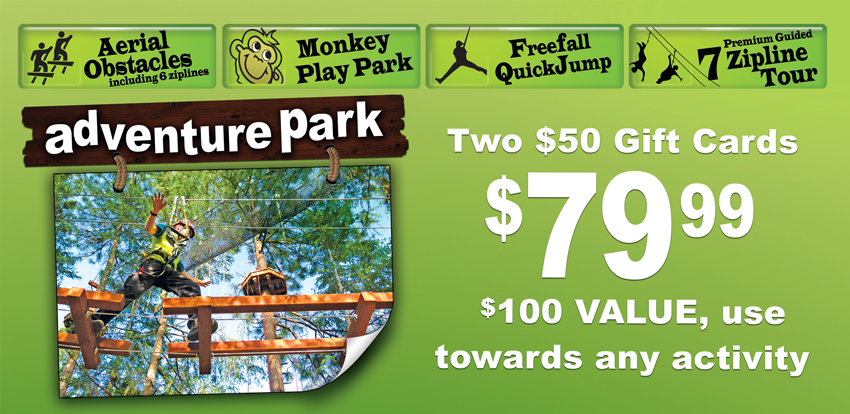 ORCHARD PARK MALL SALE
We have cut the price of our Winter 2017 gift cards for the off-season. The discount program promoted at Costco last year was so successful we have decided to continue the sale on zip line packages. Kelowna Tickets has the exclusive rights to sell our adventure gift cards in the Orchard Park Mall, Highway 97A, Kelowna B.C. This is a convenient pick-up location for most. Save over $10 on the $50 gift cards; and they can be purchased in bundles.
Two of the cards will buy you the Premium Guided Zipline Tour, and cards can be redeemed anytime during our regular season, April through October 2018. The Premium Guided tour is a great value as it has almost 3 hours of outdoor family fun. It offers 7 different stations and the longest ziplines (1500ft each). There is very little walking between the stations for maximum fun time. Oyama Zipline is the only full-size Aerial Park and Zipline Course in British Columbia and this adventure park boasts a unique dual zip line, so you can soar over the valley close to your friend.
The Premium Tour is $99 (two gift cards) for those over seventeen years of age. You can use the gift cards for other activities and merchandise. Youth and kids' activities start at only twenty dollars. Come for the 180º lake views, stay for all four adventure activities... purchase your gift card today!