Everyone wins this summer! Because you followed the contest link we want to reward you with an exclusive discount.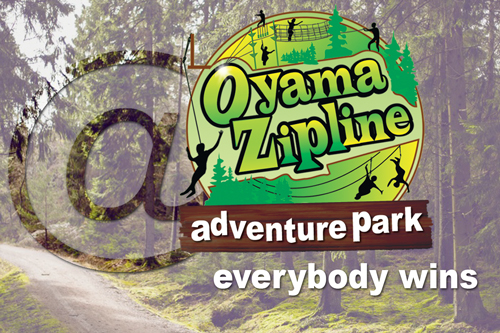 Make a note of this unadvertised promo code … then proceed to the Ikon Adventure Contest for a heli-tour adventure enter. Click here to enter.

SUMMERADVENTURE is your code to receive $10 off Oyama Zipline's combo deal price. This promo code allows you an iconic adventure whether you win the grand prize or not. Our Combo Deal includes 13 ziplines. Seven of them are in the Premium Guided Tour and then 6 more zip lines and 27 fun aerial challenges in the trees. All of this is included in our summer outdoor adventure contest add-on. The Oyama Zipline Adventure Park COMBO DEAL means you are booked in for about 5 hours of adventure. Adults will receive this package for the low price of $119 if you enter the promo code SUMMERADVENTURE when you book a combo pass online.


Searching Availability...
Zipline + Aerial Park Combo; about 5 hours of diverse activities trying 3 aerial courses and 13 ziplines. Value is $109 for the 7 premium zip lines and $39 for the 2 hours in the multi-level aerial park.
To win an Adventure Day in a helicopter follow these instructions:
Like Ikon Adventures (@IkonAdventures) & Oyama Zipline Adventure Park (@OyamaZipline) on Facebook.
Tell us who your adventure partner is! Tag your adventure buddy in one of our posts or share the post with them.
Your Okanagan Adventure takes off in the morning from the Kelowna Airport.  Enjoy an exciting ride in our ikonic red chopper! Don't worry, Hiilite Photography will capture your heli-tour experience, the gorgeous views and your smiling faces (yes you get all the photos!).  Your flight will take you to Oyama Zipline Adventure Park, where you'll experience the thrill of ziplining and test your balance at the Aerial Park. Get picked up in style..  with your second helicopter flight taking you back to the airport. Then you'll want to head to the Downtown Marina, where you'll end your adventure day by cruising the lake on jet-skis!