This is your chance to try the Kelowna area's most complete outdoor adventure park. Save $30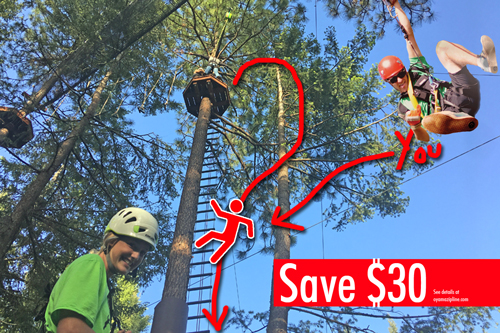 With your Guided 7 Zipline Tour (and/or completion of the Aerial Obstacle Course with 6 ziplines), you will receive 2 Free QuickJumps (value $30). Oyama Zipline Adventure Park has complete family packages and price points starting at only $20. 
Searching Availability...
The guide team is very accommodating for groups with varying ages. They allow drop-off/supervision in Monkey Park while youth/adults ride the big-boy-toys.
So much to choose from. Four separate attractions: Extreme Rides, Childrens' Playground with supervision, both Guided & and Self-Guided Aerial Park + Zip options. The 2km-Zip-Tour offers more! long rides one-after-the-other plus side-by-side racing lines, rope bridges, slacklines, trapdoors! Definitely Kelowna's biggest course. Separately, children (3-11) enjoy Monkey Play Park with safe netted obstacles. Chaperones can interact at no charge or lounge nearby. NEW choose the supervision package while you zipline!
Coupled with the fact everyone in your car will have a big adventure… the scenic drive alone is worth the visit. Gaze over turquoise Kalamalka and Wood Lakes as well as so many farms and orchards in the Okanagan Valley.